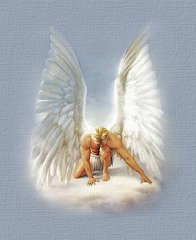 What About Angels? - Part 2

Angels are used to execute God's Judgment:
2 Samuel 24: 16, 17 And when the Angel stretched out his hand upon Jerusalem to destroy it, the Lord repented Him of the evil, and said to the Angel that destroyed the people, It is enough: stay now thine hand. And the Angel of the Lord was by the threshingplace of Araunah the Jebusite. And David spake to the Lord when he saw the Angel that smote the people, (prayed) and said, .. I have sinned,...I have done wickedly: but these sheep, what have they done? let Thine hand, I pray thee, be against me, and against my father's house.
Now, to name some New Testament texts referring to angels:
Luke 1: In this chapter there are 2 major visitations by the Angel, Gabriel, to two different people. One male and one female.
The first visitation: to the priest Zacharias, while he was in the Temple praying for the people and worshipping God. Purpose? He announced opening the womb of his barren wife who was well past childbearing age. Also, the gender, mission of such a son, and what GOD named him, John. (the Baptist)
vs. 18 ~ 20 And Zacharias said unto the Angel, Whereby shall I know this? for I am an old man, and my wife well stricken in years. And the Angel answering said unto him, I am Gabriel, that stand in the Presence of God; and am sent to speak unto thee, and to shew thee these glad tidings. And, behold, you shalt be dumb, and not able to speak, until the day that these things shall be performed, because you believest not my words, which shall be fulfilled in their season. (9 mos.) Awesome!
When he was so long in the Temple, the people figured he'd had a vision inside the Temple as he prayed. How many people today would think that when someone stayed long in church praying? Hmmmm.... Bless the Lord!
It was the custom in those days to name the child after the parent, but after his birth, his wife called him John. They asked his father and:
vs. 63, 64 And he asked for a writing table, and wrote, saying, His name is John. And they marvelled all. And his mouth was opened immediately, and his tongue loosed, and he spake, and praised God.
Luke 1 ~The second visitation: to the young Virgin maiden, Mary...vs. 28 ~ 38 And the Angel came in unto her, and said, Hail, thou that art highly favoured, the Lord is with thee: Blessed art thou among women. And when she saw him, she was troubled at his saying, and cast in her mind what manner of salutation this should be. And the Angel said unto her, Fear not, Mary: for thou hast found favour with God. And, behold, thou shalt conceive in thy womb, and bring forth a son, and shalt call His name Jesus. (GOD named this One too!)
He shall be great, and shall be called the Son of the Highest: and the Lord God shall give unto him the Throne of his father David: And He shall reign over the house of Jacob forever; and of His Kingdom there shall be no end. Then said Mary unto the Angel, How shall this be, seeing I know not a man? And the Angel answered and said unto her, The Holy Ghost shall come upon thee, and the Power of the Highest shall overshadow thee: therefore also that Holy thing which shall be born of thee shall be called The Son of God.
Again, God used an Angel to announce something needing to be known. For the now and the future. He brought news of something that was totally unheard of and would not be believed, i.e. a virgin having a baby without a man. Prophecy, conception, gender, and purpose by Immaculate Conception of the Holy Ghost. Wow! This is a one-shot deal and would never happen again. 'Is there ANYthing too hard for the Lord? Nay.' GOD named Him too,...Jesus.
Mary may have been young, but she was with God in her heart of faith. She trusted the Lord with all this heavy stuff that the Angel told her. And, telling Joseph, who she was betrothed to, was no exception. As you read on, you'll see that he, seeing she was pregnant, wanted to hide and protect her from the people, loving her as he did. But, in a dream, GOD revealed to Joseph that she had conceived by the Holy Ghost...and not by any other man. This had to be heavy stuff for him to think upon too. God also told him not to fear taking her as his wife, but that he was not to have intercourse with her until after the child was born. Jesus came forth, totally untainted from 'flesh', although God used a woman's body to bear and birth the Saviour of the world.
Mary pondered it all in her heart, saying nothing to anyone. After all, GOD started this thing and HE was more than capable of finishing it His style and His timing. The rest, was His business to run, not hers. So, she settled it in her heart trusting God.
Another thing I wish to bring focus upon, (I love this part too)... is where the Angel Gabriel told Mary all about once-barren and up in years, Elisabeth and Zacharias' business to her). Until then, only they knew of the birth of John coming forth, and his mission from God regarding the Saviour. (which ended up being his 1st cousin, although never did Jesus nor John refer to each other as such. Rather, totally in their God-called positions and purpose to man.)
Luke 1: 36 ~ 38 And, behold, thy cousin Elisabeth, she hath also conceived a son in her old age: and this is the sixth month with her, who was called barren. For with God nothing shall be impossible. And Mary said, Behold the handmaid of the Lord; be it unto me according to Thy Word. And the Angel departed from her.
Note: She was not rebuked for asking how, as the priest Zacharias was. Nor, did she get corrected physically, as he had. Why is that? Speculating, I should think that a Minister in the Temple of many years, and a senior citizen at that, would have grown to a greater measure of faith in the working of God to man. ('unto whom much is given is much required') He was seasoned; she was inexperienced and very young.
Too, was not knowledgeable of the things Zacharias would have been at his age and life's experiences. She was a young woman, chosen and hand-picked by God Himself for His Divine purpose.
She was of no ministerial capacity. Her response to the Angel shows her own faith in God, His will and working. God knew she'd be faithful, no matter what would happen. 'Be it unto me according to Thy Word, O Lord.' Naked faith, past the 5 senses and past the results that could develop with people around her. Let God...be....GOD! There it is, what we all must embrace with God, a child-like unwavering faith.
As you see in these Bible happenings to and with ordinary people such as you and I, each had a purpose. In like manner, we each have a God-given purpose and keeping close to Jesus with a sincere, obedient and willing heart ~ we are sure to know what God wants of us and follow that. Angels are not the only ones that God has called for specific purposes with humanity. Keep the connection and follow Jesus. What should be...shall be.
I close this message with some New Testament Scriptures that bring further enlightenment on the destiny of Angels to mankind.
2 Peter 2: 4 For if God spared not the Angels that sinned, but cast them down to Hell, and delivered them into chains of darkness, to be reserved unto Judgment; 9 ~ 11 The Lord knoweth how to deliver the godly out of temptations, and to reserve the unjust unto the Day of Judgment to be punished: But chiefly them that walk after the flesh in the lust of uncleanness, and despise government. Presumptuous are they, self-willed, they are not afraid to speak evil of dignities. Whereas Angels, which are greater in power and might, bring not railing accusation against them before the Lord.
Note: Angels can look not only like ordinary men with regular clothes on with flesh tones as we have, but they can come in a shaft of light, be luminous glowing white (almost blinding), be Seraphims or Cherabims ~ to name some. Some have wings that span out and up twice or so as large as they are, clothed in white.
In the Bible the only ones named are Lucifer (who was the brightest of all until he decided in his self-exalting Pride that he was going to be as God and above God and in the stead of God). God hating Pride, shucked his case out of Heaven, and out of His Presence forevermore. Then we see how the Angel Gabriel got around. He came with powerful messages with guidance, rebuke, prophesying and warning of impending Judgment; also, announcing Good News of prophecy to people. He was quite busy. And of course, there is Michael the Archangel, who does battle in the Heavenlies for us. See where Daniel (in Daniel 10) was fasting and praying for 21 days, seemingly getting no answer, when Michael came, telling him his prayer was heard from the first day. Michael said he had to do battle for Daniel in the Heavenlies against the demon spirits that were trying to stop his prayers from getting through. In this chapter it describes the appearance and clothing of the Angels. Hallelujah!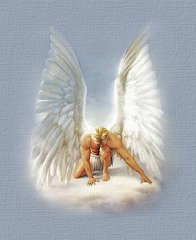 Jesus said:
Matthew 13: 47 ~ 50 Again, the Kingdom of Heaven is like unto a net, that was cast into the sea, and gathered of every kind: Which, when it was full, they drew to shore, and sat down, and gathered the good into vessels, but cast the bad away. So shall it be at the end of the world: the Angels shall come forth, and sever (divide) the wicked from among the just, And shall cast them into the furnace of fire: there shall be wailing and gnashing of teeth.
Matthew 24: 35 ~ 39 Heaven and earth shall pass away, but My Word shall not pass away. But of that day and hour knoweth no man, no, not the Angels of Heaven, but My Father only. But as the days of Noah were, so shall also the coming of the Son of man be. For as in the days that were before the flood they were eating and drinking, marrying and giving in marriage, until the day that Noah entered into the ark, And knew not until the flood came, and took them all away; so shall also the coming of the Son of man be.
Luke 12: 8, 9 Also I say unto you, Whosoever shall confess Me before men, him shall the Son of man also confess before the Angels of God: But he that denieth Me before men shall be denied before the Angels of God.
Luke 15:10 Likewise, I say unto you, there is joy in the presence of the Angels of God over one sinner that repenteth.
John 1: 51 And He (Jesus) saith unto him, Verily,..(truly) I say unto you, Hereafter ye shall see Heaven open, and the Angels of God ascending and descending upon the Son of man.
Acts 10: 3, 4 He saw in a vision evidently about the ninth hour of the day an Angel of God coming in to him, and saying unto him, Cornelius. And when he looked on him, he was afraid, and said, What is it, Lord? And he said unto him, Thy prayers and thine alms are come up for a memorial before God.
Hebrews 1: 5 ~ 7, 14 For unto which of the Angels said He at any time, Thou art My Son, this day have I begotten thee? And again, I will be to Him a Father, and He shall be to Me a Son? And again, when He bringeth in the firstbegotten into the world, He saith, And let all the Angels of God worship Him. And of the Angels He saith, Who maketh His Angels spirits, and His ministers a flame of fire. Are they not all ministering spirits, sent forth to minister for them who shall be heirs of Salvation?
Jude 1: 5 ~ 10 I will therefore put you in remembrance, though ye once knew this, how that the Lord, having saved the people out of the land of Egypt, afterward destroyed them that believed not. And the Angels which kept not their first estate, but left their own habitation, He hath reserved in Everlasting chains under darkness unto the Judgment of The Great Day. Even as Sodom and Gomorrha, and the cities about them in like manner, giving themselves over to fornication, and going after strange flesh, are set forth for an example, suffering the vengeance of Eternal Fire. Likewise also these filthy dreamers defile the flesh, despise dominion, and speak evil of dignities. Yet Michael the Archangel, when contending with the devil he disputed about the body of Moses, durst (dared) not bring against him a railing accusation, but said, The Lord rebuke thee. But these speak evil of those things which they know not: but what they know naturally, as brute beasts, in those things they corrupt themselves.
2 Thessalonians 1: 7 ~ 10 And to you who are troubled rest with us, when the Lord Jesus shall be revealed from Heaven with His mighty Angels, In flaming Fire taking vengeance on them that know not God, and that obey not the Gospel of our Lord Jesus Christ: Who shall be punished with Everlasting Destruction from the Presence of the Lord, and from the Glory of His Power; When He shall come to be glorified in His saints, and to be admired in all them that believe (because our testimony among you was believed) in that day.
Revelation 7: 9 ~ 12
After this I beheld, (saw) .... a great multitude, which no man could number, of all nations, and kindreds, and people, and tongues, stood before the Throne, and before the Lamb, clothed with white robes, and palms in their hands; And cried with a loud voice, saying, Salvation to our God which sitteth upon the Throne, and unto the Lamb. And all the Angels stood round about the Throne, and about the elders and the four beasts, and fell before the Throne on their faces, and worshipped God, Saying, Amen: Blessing, and glory, and wisdom, and thanksgiving, and honour, and power, and might, be unto our God forever and ever. Amen.

Absolutely Gorgeous And I Thank Each One Of You So Very Much!
The Pretty Music Playing Today is Entitled, Angels of God