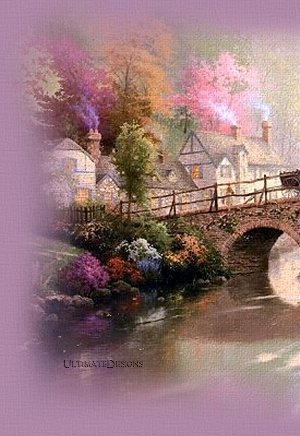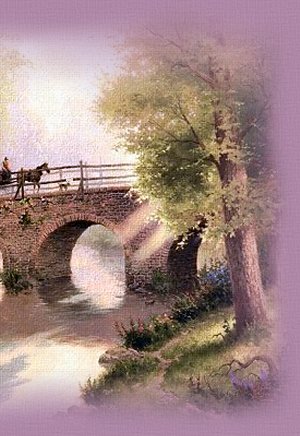 ~ ~ ~ Inner Peace ~ ~ ~

You are not alone in your circumstance. Someone special cares for you especially! Every single moment of every single day, I want you to remember that Someone is...there for you! Will you run to Him and hide away in that 'come away with Me' place? He has a Well of Living Waters that flows from His Fountain of Life that never runs dry, totally soaking your soul with His love, goodness, understanding and comfort.
Yes, there is a place we can go to and find rest.
There is a place we can find peace of mind and release from anxiety and stress.
There is a place where we are welcomed with an open heart of unconditional and releasing love.
There is a place where we shall be uplifted, comforted, strengthened and receive 'the' Sound Counsel.
There is a place away from it all, that guarantees you refreshment and change.
The Word of God tells us of this place. It is there, day by day, that we find restful assurance and trust in His Divine care. It is in 'abiding in Him' as we draw from Him at His feet, that we are free to enjoy the goodness and kindnesses He sends us each day. Be it through someone's words, deeds or time with us; be it in a happening of the day....we then recognize... and not miss ... our many blessings.
Special time with Him each day with thankful and seeking hearts, is where we find He is never too busy to consider us and our needs
There, we grow up becoming all the while what He wants.
There too, we grow into seeing and feeling His personality, will and sweet Presence at work.
Now, walk with me a bit through His Holy Word regarding this Precious Place of Solitude with God and release from the burdens, worries and circumstances that seek to weigh us down and stop us from doing His bidding.

James 4: 8 Draw near to God, and He will draw near to you. Cleanse your hands, ye sinners; and purify your hearts, ye double minded.
Psalms 16: 7 ~ 11 I will bless (worship) The Lord, Who hath given me Counsel: my reins also instruct me in the night seasons. I have set The Lord always before me: because He is at my right hand, I shall not be moved. Therefore my heart is glad, and my glory rejoiceth: my flesh also shall rest in hope. For Thou wilt not leave my soul in Hell; neither wilt Thou suffer (allow) Thine Holy One to see corruption. Thou wilt shew me The Path of Life: In Thy Presence is Fulness of joy; at Thy right hand there are pleasures Forevermore.
He comes with Healing in His wings! Healing for mind, emotions, soul and body. Nothing is impossible with God. Know that.
If God...be for you...no one can be against you! :)
Psalms 121: 1 ~ 8 I will lift up mine eyes unto the hills, from whence cometh my help. My help cometh from The Lord, which made Heaven and earth. He will not suffer (allow) thy foot to be moved: He that keepeth thee will not slumber. Behold, He that keepeth Israel shall neither slumber nor sleep. The Lord is thy Keeper: The Lord is thy Shade upon thy right hand. The Sun shall not smite thee by day, nor the Moon by night. The Lord shall preserve thee from all evil: He shall preserve thy soul. The Lord shall preserve thy going out and thy coming in from this time forth, and even Forevermore.
Genesis 18: 14 Is any thing too hard for The Lord? ...
Psalms 3: 3 ~ 5 But Thou, O Lord, art a Shield for me; my glory, and The Lifter up of mine head. I cried unto The Lord with my voice, and He heard me out of His Holy Hill. I laid me down and slept; I awaked; for The Lord sustained me.
Psalms 40: 1 ~ 5 I waited patiently for The Lord; and He inclined unto me, and heard my cry. He brought me up also out of an horrible pit, out of the miry clay, and set my feet upon a Rock, and established my goings. And He hath put a new song in my mouth, even praise unto our God: many shall see it, and fear, and shall trust in The Lord. Blessed is that man that maketh The Lord his trust, and respecteth not the proud, nor such as turn aside to lies. Many, O Lord my God, are Thy Wonderful Works which Thou hast done, and Thy thoughts which are to us-ward: they cannot be reckoned up in order unto Thee: if I would declare and speak of them, they are more than can be numbered.
Matthew 11: 28, 29 Jesus said: Come unto Me, all ye that labour and are heavy laden, and I will give you Rest. Take My Yoke upon you, and learn of Me; for I AM meek and lowly in heart: and ye shall find Rest unto your souls.
Let go and let ... God! Trust Him with all parts of your being and life. He knows it all and He cares about you. We are His .... busyness!
Follow...Him! He is such an Awesome One to 'follow'.
Matthew 16: 24 ~ 27
Then said Jesus unto His disciples,
If any man will come after Me,
let him deny himself, and take up his cross,
and follow Me.
For whosoever will save his life shall lose it:
and whosoever will lose his life for My sake shall find it.
For what is a man profited,
if he shall gain the whole world,
and lose his own soul?
or what shall a man give in exchange for his soul?
For The Son of man shall come
in The Glory of His Father with His Angels;
and then He shall Reward every man according to his works.
Isaiah 49: 13 ~ 16 Sing, O Heavens; and be joyful, O earth; and break forth into singing, O mountains: for The Lord hath comforted His people, and will have mercy upon His afflicted. But Zion said, The Lord hath forsaken me, and my Lord hath forgotten me. Can a woman forget her sucking child, that she should not have compassion on the son of her womb? yea, they may forget, yet will I not forget thee. Behold, I have graven thee upon The Palms of My Hands; thy walls are continually before Me. (Thank You, Jesus!)


I Love This Picture, Emma and I'd Love To Be There! Thank You!
The Gorgeous Music Playing is The Theme From Forrest Gump