Both human and Divine, He was conceived by The Holy Ghost into the womb of a young virgin maiden, Mary. She'd been visited by the Angel Gabriel in a special informative and heavily anointed Visitation ~ revealing to her what was to take place in her body without a man, (who would believe that!) what the gender of the child and His purpose would be, prophesying their future to her. Sought out by God Himself, she was. She was to be the vehicle by which His Spirit and flesh births would materialize. How very chosen of God she was. The Angel told her many things in that visitation, as we see in the Gospels. One of which was that she was highly favored and blessed above all women. I've often thought (speaking as a mother) how she must have 'felt' at the foot of the cross where they hung her innocent man of God, her beloved son. Did she then feel blessed?...above all? Did God's words that were spoken to her some 33 1/2 years earlier, try her heart at this moment of her extreme sorrow and agony of spirit and heart? Her faith remained in tact, and she went on to partake of this Divine Son of hers, in the Upper Room, as she too was filled with the Holy Ghost .. being numbered among the 120 present that were worshiping God. (Acts 1, 2) Now, 'Christ in you the Hope of Glory'... His Spirit, Her Son, came inside her as well as they. How AWESOME is this reversal.
Firstly, she carried Him within her, as a babe, nurturing Him to birth from her own blood and nutrition of body.
Lastly, after His Resurrection and appearing to many, He came inside her to nurture, strengthen, comfort and guide her....to walk with her....Forever. What a love story of God to her, and to us. Wonderful Jesus. Wonderful Savior. How Precious You are!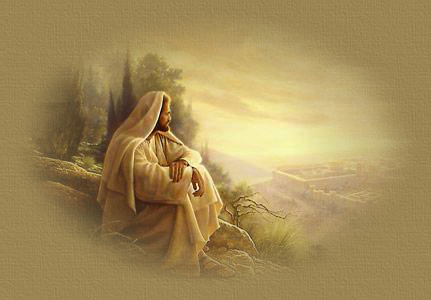 Hebrews 4: 14 ~ 16
Seeing then that we have a Great High Priest, that is passed into the Heavens, Jesus The Son of God, let us hold fast our profession. For we have not an High Priest which cannot be touched with the feeling of our infirmities; but was in all points tempted like as we are, yet without sin. Let us therefore come boldly unto The Throne of Grace, that we may obtain Mercy, and find Grace to help in time of need.
John 14: 1 ~ 7
(Jesus Himself said)
Let not your heart be troubled: ye believe in God, believe also in Me. In My Father's house are many mansions: if it were not so, I would have told you. I go to prepare a place for you.
And if I go and prepare a place for you, I will come again, and receive you unto Myself; that where I am, there ye may be also. And whither I go ye know, and the way ye know. Thomas saith unto Him, Lord, we know not whither Thou goest; and how can we know the way?
Jesus saith unto him, I Am The Way, The Truth, and The Life: no man cometh unto The Father, but by Me. If ye had known Me, ye should have known My Father also: and from henceforth ye know Him, and have seen Him.

Looking closer at this Jesus, we learn from Him by way of character, obedience, faithfulness, being a responsible person, and unconditional love without compromise to sinners. One need only walk slowly, with deep thought and consideration, through The Gospels...to learn about His very multi-sided nature and heart condition with His Heavenly Father. Go thou and do likewise.
1 John 2: 5, 6 But whoso keepeth His Word, in him verily is the love of God perfected: hereby know we that we are in Him. He that saith he abideth in Him ought himself also so to walk, even as He walked.
2 Timothy 2: 19 Nevertheless the Foundation of God standeth sure, having this seal, The Lord knoweth them that are His. And, Let every one that nameth The Name of Christ depart from iniquity.
Who believed in people so much that He paid the ultimate price for their freedom? Jesus
Whose blood has the power to forgive and cleanse the repentant sinner of his sins? Jesus
Who is it that gave us direct access to The Father God? Jesus
Who is it that can Divinely enter into a man, woman or child and cause transformation in them? Jesus
Who is watching us pray, hears and sees us at home, in the car, on the job, as we sleep, as we raise our children, cook, etc? Jesus
Who is it that is always kind, understanding, sensitive to our needs, always caring after us? Jesus
Who is it that possesses fair and merciful Judgment of us? Jesus
Who is The Door to Heaven? Jesus
Who has The power to take off of us what our selfishness, sin and the devil put on us? Jesus
Who can give us New Life on this earth, causing us to overcome the evil within and without? Jesus
Who sets all captives (whosoever will) free to lifestyles of righteousness and good character? Jesus
Who is never changing......always the same to us? Jesus
Who is it that really 'feels for us and knows us'? Jesus
Who is it that can and will stay by our side to the end? Jesus
Who influences us through His Divine Word to our hearts? Jesus
Who carries the weight of burdens for us...lifting us up above them, releasing us to enjoy each day? Jesus
Who is it that is never-changing?.. (Hebrews 13: 8)
Who is the same to us, day-by-day showing His loving kindness, provision and protection to us? Jesus
Who is it that 'paid the prices' for us? Jesus
Who is it that sticks closer than a brother to us? Jesus
Who is a constant Friend to us, loving and believing in us at all times? Jesus
Who lifts us when we feel down? Jesus
Who is The Light at the end of a tunnel; Our Lily of a valley's trial amidst a test of our faith? Jesus
Who is it that is 'touched by the feelings of our infirmities'? Jesus
Who is our Healer, Leader Triumphant, Comforter, and Companion Who walks alongside with us? Jesus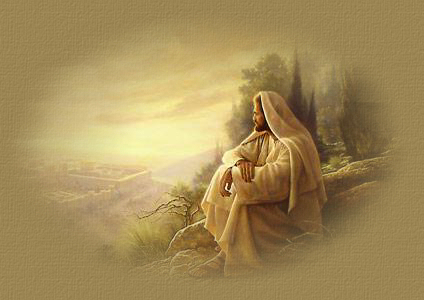 Who spent His life just being good and going about doing good to all? Jesus
Who walked on the water; turned the water to wine at a wedding feast? Jesus
Who is The Beginning and End of us all on earth; The Author and Finisher of our faith? Jesus
Who is The Living Water, Spirit of The Living God indwelling the Christian? Jesus
Who is The Creator of this Universe and all that is in it? Jesus (John 1: 1-14)
Who is The Prince of Peace; The Almighty God, King of Kings, LORD over the Heaven, earth, and all beneath? (Isaiah 9: 6, 7)
Who is The Potter over His clay molding us anew into His Likeness? Jesus
Who is it that calmed the sea? Jesus
Who is it that has all power over weather, the sea, trees, and circumstances ... by His spoken words? Jesus
Who is it that spoke everything existence? Jesus (Genesis 1)
Who is it that has a Name above all names on the face of this earth?...
A Name that devils have to bow to when it is used by a Christian in binding and loosening prayer to liberate captives from their sin and sicknesses? That Precious Name that protects through His Precious Blood He shed on a cross? Jesus Christ.
In summary, for which of the above mentioned things, was He hated?
Why would anyone seek to rid their self of His Presence and Holy Words to their heart and mind?
How could the religious leaders of His day find fault with such a man as this? Why did they detest Him so much that they had to kill Him?
How could they take such a man and hurt His feelings so ~ murder Him?
How could they justify their cruel treatment of Him, i.e. mocking Him, slapping His face, beating Him with a rod and whips multiple times, spit upon His face, push sharp long thorns into His head?
Such jealousy driven hypocrites couldn't ruin His influence and impact, stop His ministry, healing of the people or liberating them mind, soul and body. Envy.
They didn't accomplish their goal of discrediting Him, isolating Him, stopping the people from wanting to hear what He had to say.
Whereas, in so doing 'touching The Anointed, they heaped to themselves great misery within, driven by their hatred of the fact that He gained such a following. They ended up presenting themselves as murderers....in the 'name of God', on lying accusations against Him. They had to remove Who they couldn't match.
This Jesus ... what did He do wrong? 'Never a man spake as this man.' And, as they said, 'Did not our hearts burn within us as He spoke with us.' He brought new thought and teaching straight from The Throne Room of God Almighty ~ to this earth.
As God spoke, Jesus spoke. As He said, 'My words are not My own, but as The Father speaketh, so do I speak to you.'
The Gospels reveal details of His Divinity and humanity; His personality, heart for His Father and humanity with Divine example. He came exalting only God, His Father and His teachings. He taught by His words...and example. In Him, we find true love that stands up for good and stands against evil.
'No man doeth these things except God be with Him.' Ditto!! :)
Such people filled with enormous jealousy, competed (and couldn't) striving to stop this Deliverer from God, surely had some sleepless nights. Guilt? I'm sure that like anyone who mistreats another, they couldn't be at peace of mind and soul in their daytime hours either. They knew what they were doing wrong. Though they 'fooled some of the people', they knew their own heart, motive and more than that, God Himself saw what was in the 'inside of them' of evil. Yes,
in the 'name of God' or otherwise, there is never any justification for us to do evil against another if we ourself truly walk with Jesus. All ~ is up to God's dealing.
Howbeit, it was because of their own evil hearts of envy that they delivered Him up under lying charges, and railroaded Him to the cross. All the while, tearing Him down in a sick attempt to not only rid their self of His influence and impact over the people, but appearing to look good to the people their self. Thus, perverted judgment! A good warning to all of us of what a carnal mind, fleshly will and jealousy can cause in and through us. (like Cain vs. Abel)

Here He was, able to do things they could not.
Here He was, touching hearts with His Spirit and Divine Word as they...could not.
Here He was, bringing people deliverance and healing in their minds; their emotions; their spirit and body.
Here He was, gaining more and more of a following of people that were being influenced by what He was.
Here He was, posing a threat and provoking rivalry in them because of their own pride, self-exaling, unbelief and hypocrisy.
They accused Him of being insane.
They accused Him of exalting Himself instead of God.
They accused Him of being filled with devils and casting devils out by the chief of devils.
They accused Him of lying.
They accused Him of teaching falsely 'in the name of God'.
They accused Him of being self-seeking rather than representing God properly.
They accused Him of violating the Sabbath when He healed people on that day.
They accused Him of being deluded in His mind when He said He was The Son of God, the Messiah that was to come.
(They saw Him merely as a fleshly man, born of Mary and Joseph..a Carpenter's son they had watched grow up)
They accused Him of being a booze hound (winebibber) when He sat with sinners and drunkards...teaching God's doctrine to them.
They accused Him of leading people astray from God...with His own doctrine and teachings.
They accused Him of saying one thing and doing another.
( i.e. rising the 3rd day from the grave, deceiving the people into thinking thus, when all the while He would have people remove Him from the Tomb. Not!)
Yes, we learn much of His heart condition with God and man as we study the Gospels. I encourage this study in your life, dear heart. For, it is in getting to know Him personally, that we can truly see. See Him, our self, and others.
Thus, we are able to see the good and evil that lies within our own heart and spirit. Then, we change.
Nonetheless, when we change our self for the heart of God and His Eyes alone, we live out our life exalting and following Christ's beautiful teachings from God. Too, our lifestyle, what and who we prefer spending time on, is in agreement with His heart for God and souls. We change. Thus, those around us are affected and deal with preferred Christianity in their lifestyle choices. Mirror. Light.
Romans, Chapter 8 and 12 see.
We choose differently because we 'are' different. God's own children walk to the drumbeat of another drummer. A Heavenly One. And, we are created anew day-by-day as we merely 'follow Him'. What all should drop off from us, does.
He's beautiful ... in attitude. Sweet, in His Spirit. Determined and dedicated, for all that is acceptable to God and good for you and I. Thank You, sweet, loving and kind Jesus!