Ever Feel Restless?

Where do you go when you feel unrest in your soul?
Where is it you find comfort and relaxation with peacefulness?
What do you do when you feel anxious, fearful or tossed?
All things and people here are temporary!
And, this too shall pass.
This morning, going through my letters, my thoughts went to getting my morning coffee that hubby made for us and grabbing my Bible to sit on the couch with Father God. That is it! So inviting is the early morning Sunlight shining across those pages as I read and think. The mind is fresh and uncluttered in the morn. I have found nothing and no one that can bring the Water to my soul, as His Word does. Just to sit and soak up at His feet what He has to say. He is so wise and speaks so eloquently. He speaks straight forward and clear with His Divine Truths to our heart.
Voices and messages in our world seek to influence and change us. Lots of 'words'. All the more, we need His view on everything! Then, we make sound decisions. We are viewing things through His eyes. We believe Him. We see how He feels; what He expects. We are liberated from the bondage of self -seeking. We are free with Him to be...who He wants, as we sit with Him in His Word each day, and pray for others. Yes, we are His work of clay in progress, being fashioned into the vessel He has ordained us to be. Joy! We have assurance and rest in Him.
Dear heart, in the midst of whatever may be troubling you, there is Someone who is watching over you and your circumstances. There is Someone you can go to for help and know He will always be there for you. There is Someone who is believing in you and wants only what is good for you. He is awake when you are asleep. Nothing escapes Him. Know that. He can be depended upon for He is always Faithful. As you sit soaking up His Word into your thirsty soul and tossed emotions, His Spirit is in those words and you are not alone. He knows about it all and that is sufficient, isn't it. As you send your praise, thanksgiving and prayers up to Him in faith, He is moved down upon you and your answers come from Him. He won't let you down. Gone is restlessness, worry and fearful anxiety.

Isaiah 49: 13 ~ 16
Sing, O heavens; and be Joyful, O earth;
and break forth into Singing, O mountains:
for the Lord hath Comforted His people,
and will have Mercy upon His afflicted.
But Zion said,
The Lord hath forsaken me, and my Lord hath forgotten me.
Can a woman forget her sucking child,
that she should not have compassion on the son of her womb?
yea, they may forget, yet will I not forget thee.
Behold, I have graven thee upon the palms of My hands;
thy walls are continually before Me.

There, we are reminded how everyone and everything here is 'temporary'. Oh so very....temporary.
Calm and collected in our mental and emotional faculties, all is better. Thank You, Father, our Stabilizer.
Faith and love bring us above the circumstances. We won't be tossed and troubled by letting this life's experiences rob us of the peace and joy that His Love and Blood bought for us. Faith springs up inside of us as we read His words and fear and unrest are gone!

It is commonplace these days in our world, that people expect a 'quick fix'. It exists among 'Christians' too! Divided loyalty and a spiritual heart condition with God where self has not been surrendered to the cross experience, causes this. As in the world the same is true in the church, that if one really wants something, they go for it with gusto!
Sad, that too many rob themselves of the sweet Presence of The Lord they could personally experience if they would just sit and read and think on God's Word..if they would just sit with Him...and listen, and let Him work them over.
Rather than meditating on God's Word, too many are tossed by their own views in selfish pride, and don't 'need God's Word' and His views. That would cause them to submit rather than do things their own way...and many ... in the 'name of God', doing despite to the Spirit of Grace and grieving Him. Then the 'saints' wonder why...there is no anointing on them. And have they even labored in prayer in detail ... according to the golden rule ? (2nd Great Commandment Jesus gave us in the Gospels)
And in:
James 5: 16 Confess your faults one to another, and pray one for another, that ye may be healed. The effectual fervent prayer of a righteous man availeth much.
Revelation 22: 17 And the Spirit and the bride say, Come. And let him that heareth say, Come. And let him that is athirst come. And whosoever will, let him take The Water of Life freely.
Jesus Christ is our Source. People come and go and people change. Too many these days depend on 'things, feelings and people', rather than God. A person's words should always be compared to God's Word lest we go astray.
If we are not 'into God's' Word, how do we know truth from error? We don't. We can't, and herein is the devil's playground against the soul and life of those who don't sit with Christ, soaking up His teachings in the Gospels.
There won't always be someone around to listen or to give us advice. What then? If one is established in the faith and in God's Word, they have a continual feast, drinking up the waters of His Wisdom, Counsel and Knowledge. God's Word...is a Fountain that never runs dry. He waits for us to come to Him, lay everything before Him and give it all over to His care. We can trust Him.
Everyone has up and down times; hard and easy times. That comes with life. Everyone experiences fighting within and without at some time or another. Doubts and fears, unrest about ourselves, others and even God. But, to place those fleshly and 'temporary feelings and circumstances' into His Divine care, releases us from being bound by them. We then have the freedom to see, be and do what He would have us to.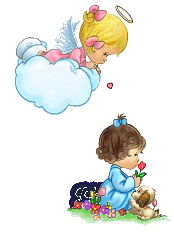 Speaking of unfounded fears that we all must deal with in this life, I remember my first airplane ride years ago. At that point in my life, many things tossed me about; needing some knowledge and Divine insight to see me through the turmoil I was experiencing within, my daily joy was being sapped from me.
Thinking on the circumstances, I had a visitation from The Lord that said, 'Think on...God's Word!!' Not what someone had said and the effects and how fruitless things looked as if there was no hope. And as I sat up there in that airplane totally awed by the gorgeous blue sky and white clouds all around me, I realized I was closer to Heaven. And most of all, the things of the earth were all under me...on the ground!!! They didn't bother me anymore. I was above them all; my spirit had been lifted as the plane ascended free flying in the sky ~ above all the encumbrances of the earth. I pondered that tearfully in my heart of thankfulness to Him.
It came home to roost to me that although things seem so huge and insurmountable, God is greater and everything...and everyone here...is just temporary. It'll pass!! Insight? Live...like this...from now on. Too, I must not 'let' things said, how someone was acting or reacting to me, toss, tear or control me. That with Father, I must set my own standard with Him, for His pleasure alone. That all that matters if that plane went down was what He thinks. Period. And, my unrest and fears were gone! Thank You, Lord.
We are partakers of His Divinity and His sweet 'touch'. What else can we do against unrest? Reach out where there is a need, no matter who, no matter what, and do it as to Christ from your heart. This is another sure....way to live free from tossing doubts from fear. Get out of you...caring more about and for others and what you...would need...if you were experiencing what they are.
This is the very will of God for all humanity. The happiest and most energetic and interesting people I have been around in my life are those who are of this heart and lifestyle. Christ first came to save us from self-centeredness and self-wallowing, to crucify the fleshly will so it isn't a hindrance to what He wants to do to...and through us. Thank You, Lord.
Whether alone with God at His feet, or reaching out to others, the only thing that should motivate us is an unconditional serving love. God is love!

Before I close this message, I want to touch upon a few other things that people do to relieve unrest in their souls. Quick fixes. Things that produce temporary results just because people don't know where to go to find comfort, help and guidance; or, because they trust in their 5 senses instead of sitting in the Word and prayer with The Lord. By doing so, they receive temporary relief, follow impulses of the flesh, only to repeat the process. Jesus warned and admonished us in:
John 6: 63 It is the Spirit that quickeneth; the flesh profits nothing: the Words that I speak unto you, they are Spirit, and they are Life."
To name a few of the quick fixes people use to relieve their distress and restless feelings, i.e.:
1. Go shopping...get something, go see what is out there on sale. (Covetousness which is idolatry - Colossians 3:5)
2. Call someone and talk awhile with them, sharing things that many times, one should...be sharing with God Himself. Temporary relief. (1st Love?)
3. Although we indeed should be hard at work, industrious people and not lazy, some just stay busy with this and that...whatever...and there is no time with The Word of God and praying daily fervently, for others. This is another form of a fix...that prolongs their misery, and keeps them from dealing with what they should within and without.
Only our time sitting with Him has the power to transform an individual and change one's lifestyle and person.
4. Lots of sports, and/or activities and socializing. (Balance is needful to be whole, solitude with God and interaction with people)
5. Co-dependency in relationships. Places people in bondage, living in the shade of another person. We can't try our wings and fly this way.
By depending on God we are free to grow up in the Lord and to experience new things and 'the anointing' which equips us to be used as His vessel bringing deliverance to others. People in bondage cannot liberate others. With Christ as the first love of our hearts, we can successfully go through the fire of life's various trials, victoriously living in harmony with His Word and nature. Hallelujah!
6. Various forms of self-wallowing and self-pity. Which are actually fruits of Pride, self-will and self-exalting. God detests and judges this severely. We cannot enter into God's Presence and/or 'the anointing' with self-indulgence and rebellious pride. God threw the brightest Angel Lucifer, out of Heaven for such! (Isaiah 14 see his me, my and I that brought on him his downfall...out...of the Presence..of God!)
7. Transference: prying into and trying to control other people's lives and choices, while needing to control self and one's own circumstances. (A call to change)
8. Run here or there to some 'new' thing or person, seeking 'a word from the Lord through them' or some 'impartation'. Rather than:

Jeremiah 29:13
And ye shall seek Me, and find Me,
when ye shall search for Me with all your heart.
There are various other things that we humans can use seeking to relieve the restlessness, distress or pain we experience of the moment. Jesus too, could have done that, but He didn't. His heart was fixed with God, His Father and what His example and life could accomplish for God's purpose in all. These days, I've lived long enough to see Bible prophecies unfolding and the drastic change in society and the morality of people as compared to back in the 1940's to the 1960's. The carnal mind and people who are of the world and not of Christ's Kingdom, seek to soft pedal the issues of sin and perversion, making things gray rather than right or wrong; black or white. What a dupe of the devil; delusion of the mind can seem so right and real, but it is manifested as we sit with Him in His Word.
Isaiah 5: 13 ~ 25
Therefore My people are gone into captivity, (bondage) because they have no knowledge: and their honourable men are famished, and their multitude dried up with thirst. Therefore Hell hath enlarged herself, and opened her mouth without measure: and their glory, and their multitude, and their pomp, and he that rejoiceth, shall descend into it.
And the mean man shall be brought down, and the mighty man shall be humbled, and the eyes of the lofty shall be humbled:
But The Lord of hosts shall be exalted in Judgment, and God that is holy shall be sanctified in righteousness.
Then shall the lambs feed after their manner, and the waste places of the fat ones shall strangers eat.
Woe unto them that draw iniquity with cords of vanity, and sin as it were with a cart rope: That say, Let Him make speed, and hasten His work, that we may see it: and let the counsel of The Holy One of Israel draw nigh and come, that we may know it!
Woe unto them that call evil good, and good evil; that put darkness for light, and light for darkness; that put bitter for sweet, and sweet for bitter!
Woe unto them that are wise in their own eyes, and prudent in their own sight!
Woe unto them that are mighty to drink wine, and men of strength to mingle strong drink:
Which justify the wicked for reward, and take away the righteousness of the righteous from him!
Therefore as the fire devoureth the stubble, and the flame consumeth the chaff, so their root shall be as rottenness, and their blossom shall go up as dust: because they have cast away the law of The Lord of Hosts, and despised The Word of The Holy One of Israel.
Therefore is the Anger of The Lord kindled against His people, and He hath stretched forth His hand against them, and hath smitten them: and the hills did tremble, and their carcases were torn in the midst of the streets. For all this His anger is not turned away, but His hand is stretched out still.
Wisdom causes us to go to The One Who knows it all....God and HisWord. There, we get Good News! There, we are set free from turmoil and confusion and believing lies of the devil who wants our souls in Hell with him forever! To be governed by Christ is our peace, joy, clarity and soundness. Father God is so very good. All good!
So, remember when you start to fear, doubt, get frustrated and see no way of good change.... He is waiting for you to come sit with Him and His Holy Word. He has things that only He can and wants to say to you. He is waiting for you each day. He will always guide us in accord with His Word and His holy nature.
There with Him we feel the difference within us that no other reading, thing, person or activity can produce. We can 'feel' Him working our mind over, nurturing our 'inner man' and changing us with Divine words. Light expels darkness and points out the way to us in clarity. Confusion is gone. Fear is gone. Doubt is gone. Faith is!! Love is!! Wisdom is!! Divinity is taking over. Too, we can count on Him to always be the same. This Person is our best company to keep; be influenced by. His Love and Comfort engulfs us. We have Peace of mind and soul. Yes, He impacts our whole being as we sit with Him.
James 4: 8 ~ 10 Draw nigh (near) to God, and He will draw nigh to you. Cleanse your hands, ye sinners; and purify your hearts, ye double minded. Be afflicted, and mourn, and weep: let your laughter be turned to mourning, and your joy to heaviness. Humble yourselves in the Sight of The Lord, and He shall lift you up.
Psalms 34: 17, 18 The righteous cry, and The Lord heareth, and delivereth them out of all their troubles. The Lord is nigh (near) unto them that are of a broken heart;and saveth such as be of a contrite spirit.
Psalms 121: 2
My help cometh from The Lord, which made Heaven and earth.
Exodus 20:3
Thou shalt have no other gods before Me.
And all is at rest in my soul.




Absolutely Adorable And I Thank You So Very Much for Sharing Your Artwork
Brenda and Bev ~ Shalom
Script for Floater is Courtesy of
Altan
The Pretty Oldie Music Playing is Entitled, Lollipops And Roses