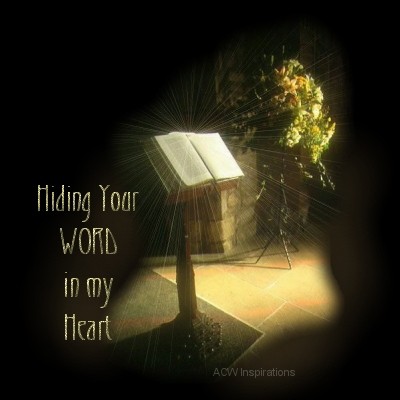 ' Love's Conditional Promises '
(Capitalization is Used to Emphasize Divinity)
In each Book of The Bible, we read about God's Divine plan for humanity.
The Old Testament foretold The New Testament (will) of God.
The New Testament is the fulfillment of The Old Testament.
In each book of The Bible we also learn of God's Love for mankind,
and why He made man.
His Love is unconditional.
His Promises are conditional.
Throughout the Holy Scriptures,
we see His will and personality revealed.
This applies to what He wants for each of us as well.
After all, it is He Who knows what is best for His children living in this world.
If you do this, I will do that.
If you don't do this, I will do that.
He promised.
His 'parenting' over the human race.
I call it the '3 Cs'.
Choices = Conduct = Consequences.
In the following Scriptures,
I've taken only a few of the ever so many texts that address this point.
In so doing, I lay them before you to read and ponder between you and God.
It is my prayer that we all please The Master of this entire Universe, Jesus Christ.
Which, while we do,
He is able to work through us to others;
He has found us to be trustworthy vessels for Him to flow through
by His Holy Spirit.
2 Timothy 2: 15 ~ 26
Study to shew thyself approved unto God,
a workman that needeth not to be ashamed,
rightly dividing The Word of Truth.
But shun profane and vain babblings:
for they will increase unto more ungodliness.
And their word will eat as doth a canker:
of whom is Hymenaeus and Philetus;
Who concerning The Truth have erred,
saying that the Resurrection is past already;
and overthrow the faith of some.
Nevertheless The Foundation of God standeth sure,
having this seal,
The Lord knoweth them that are His.
And, Let every one that nameth the Name of Christ
depart from iniquity.
But in a great house there are not only vessels of gold and of silver,
but also of wood and of earth;
and some to honour, and some to dishonour.
If a man therefore purge himself from these,
he shall be a vessel unto honour, Sanctified,
and meet for The Master's use,
and prepared unto every good work.
Flee also youthful lusts:
but follow righteousness, faith, charity, peace,
with them that call on The Lord out of a pure heart.
But foolish and unlearned questions avoid,
knowing that they do gender strifes.
And the servant of The Lord must not strive;
but be gentle unto all men, apt to teach, patient,
In meekness instructing those that oppose themselves;
if God peradventure will give them repentance
to the acknowledging of The Truth;
And that they may recover themselves out of the snare of the devil,
who are taken captive by him at his will.

Proverbs 9: 10
The fear of The Lord is the beginning of Wisdom:
and the Knowledge of The Holy is understanding.
Deuteronomy 4: 29
" But if from thence you shall seek The Lord thy God, you shall find Him,
If you seek Him with all your heart and with all your soul.

Deuteronomy 6: 5 ~ 7
And you shall love The Lord thy God with all your heart,
and with all your soul, and with all your might.
And these words, which I command you .... shall be in your heart:
And you shall teach them diligently unto your children,
and shall talk of them when you sit in your house,
and when you walk by the way,
and when you lie down,
and when you rise up.
Job 8: 4 ~ 6
If your children have sinned against Him,
and He has cast them away for their transgression;
If you would seek unto God betimes,
and make your supplication to The Almighty;
If you wert pure and upright;
surely now He would awake for you,
and make the habitation of your righteousness prosperous.
(See also Psalms 89: 30 ~33 on this fact)

Deuteronomy 28 is the largest IF chapter of God in The entire Bible.
We are promised Blessings IF we obey His Holy Word;
We are promised Curses IF we do not honor Him with our obedience.
Deuteronomy 30: 14 But The Word is very near you, in your mouth, and in your heart, that you may do it.
Genesis 4: 7 If you do well, shall you not be accepted? and if you do not well, sin lieth at the door.
Note: Cain was angry at God because He did not accept his offering. Reason being?...(for our exhortation as well) ~ Cain chose to do partly of what God wanted and mixed that with his own will in certain things. Thus, God refused what Cain had willingly 'offered' Him. May this be a frontlet to each of us into areas of our own lives, lest we make the same self-willed rebellious choices and 'miss out' with God.

Isaiah 1: 15 ~ 20
And when you spread forth your hands, I will hide Mine Eyes from you:
yea, when you make many prayers, I will not hear:
your hands are full of blood.
Wash you, make you clean;
put away the evil of your doings from before My Eyes;
cease to do evil;
Learn to do well; seek Judgment,
relieve the oppressed, judge the fatherless, plead for the widow.
Come now, and let us reason together, saith The Lord:
though your sins be as scarlet, they shall be as white as snow;
though they be red like crimson, they shall be as wool.
If you be willing and obedient,
ye shall eat the good of the land:
But if you refuse and rebel,
ye shall be devoured with the sword: (Judgment)
for The Mouth of The Lord has spoken it.
Isaiah 58: 9 ~ 21
Then shall you call, and The Lord shall answer;
you shalt cry, and He shall say, Here I am.
If you take away from the midst of you the yoke,
the putting forth of the finger, and speaking vanity;
And if you draw out your soul to the hungry,
and satisfy the afflicted soul;
then shall your light rise in obscurity,
and your darkness be as the noonday:
And The Lord shall guide you continually,
and satisfy your soul in drought,
and make fat your bones:
and you shall be like a watered garden,
and like a spring of water, whose waters fail not.

James 3: 2 For in many things we offend all. If any man offend not in word, the same is a perfect man, and able also to bridle the whole body.
John 8: 31, 32
Then said Jesus to those Jews which believed on Him,
if you continue in My Word,
then are ye My disciples indeed;
And ye shall know The Truth,
and The Truth shall make you free.
Romans 8: 13, 14 For IF ye live after the flesh, ye shall die: but IF ye through The Spirit do mortify (crucify) the deeds of the body, ye shall live.
For as many as are led by The Spirit of God, they are the sons of God.
Psalms 130: 3 ~ 5 IF You, Lord, shouldest mark iniquities, O Lord, who shall stand? But there is forgiveness with You, that You may be feared.
I wait for The Lord, my soul does wait, and in His Word do I hope.
Matthew 6: 14, 15 (Jesus said) For IF you forgive men their trespasses, your Heavenly Father will also forgive you: But IF you forgive not men their trespasses, neither will your Father forgive your trespasses.
2 Timothy 2: 24 ~ 26
And the servant of The Lord must not strive;
but be gentle unto all men, apt to teach, patient,
in meekness instructing those that oppose themselves;
IF God peradventure will give them Repentance
to the acknowledging of The Truth;
And that they may recover themselves
out of the snare of the devil,
who are taken captive by him at his will.

Galatians 1: 9, 10
As we said before, so say I now again,
If any man preach any other Gospel unto you than that ye have received,
let him be accursed.
For do I now persuade men, or God?
or do I seek to please men?
for if I yet pleased men,
I should not be the servant of Christ.
1 Peter 4: 11
If any man speak,
let him speak as the oracles of God;
If any man minister,
let him do it as of the ability which God giveth:
that God in all things may be Glorified through Jesus Christ,
to Whom be Praise and Dominion Forever. Amen.
Proverbs 1: 22 ~ 33
How long, ye simple ones, will ye love simplicity?
and the scorners delight in their scorning,
and fools hate Knowledge?
Turn you at My reproof:
behold, I will pour out My Spirit unto you,
I will make known My Word unto you.
Because I have called, and you refused;
I have stretched out My hand, and no man regarded;
But you have set at nought all My Counsel,
and would none of My reproof:
I also will laugh at your calamity;
I will mock when your fear cometh;
When your fear cometh as desolation,
and your destruction cometh as a whirlwind;
when distress and anguish cometh upon you.
Then shall they call upon Me, but I will not answer;
they shall seek Me early, but they shall not find Me:
For that they hated Knowledge,
and did not choose the Fear of The Lord:
They would none of My Counsel:
they despised all My reproof.
Therefore shall they eat of the fruit of their own way,
and be filled with their own devices.
For the turning away of the simple shall slay them,
and the prosperity of fools shall destroy them.
But whoso hearkens unto Me shall dwell safely,
and shall be quiet from fear of evil.

Psalms 139: 1 ~ 14
O Lord, You have searched me, and known me.
You know my downsitting and my uprising,
You understand my thought afar off.
You compass my path and my lying down,
and are acquainted with all my ways.
For there is not a word in my tongue, but, lo,
O Lord You know it altogether.
You have beset me behind and before,
and laid Your hand upon me.
Such Knowledge is too wonderful for me;
it is High, I cannot attain unto it.
Where shall I go from Your Spirit?
or where shall I flee from Your Presence?
IF I ascend up into Heaven, You are there:
IF I make my bed in Hell, behold, You are there.
IF I take the wings of the morning,
and dwell in the uttermost parts of the Sea;
Even there shall Your Hand lead me,
and Your right Hand shall hold me.
IF I say, Surely the darkness shall cover me;
even the night shall be light about me.
Yes, the darkness hides not from You;
but the night shines as the day:
the darkness and the light are both alike to You.
For You have possessed my reins:
You have covered me in my mother's womb.
I will praise You;
for I am fearfully and wonderfully made:
marvellous are Your works;
and that my soul knows right well.
17, 18 vs.
How Precious also are Your thoughts unto me, O God!
how great is the sum of them!
If I should count them,
they are more in number than the sand:
when I awake, I am still with You.


(Their Site is Now Closed)
Such A Moving Set And I Thank You For Sharing Your Artistry
The Inspirational Music Playing is Entitled, Gentle Shepherd