~ ~ The Potter And The Clay ~ ~
(Caps are used for Divine Emphasis)


Matthew 18: 2 ~ 6
" And Jesus called a little child unto Him, and set him in the midst of them,
And said, Verily I say unto you,
Except ye be converted, and become as little children,
ye shall not enter into The Kingdom of Heaven.
Whosoever therefore shall humble himself as this little child,
the same is greatest in The Kingdom of Heaven.
And whoso shall receive one such little child in My Name receiveth Me.
But whoso shall offend one of these little ones which believe in Me,
it were better for him that a millstone were hanged about his neck,
and that he were drowned in the depth of the Sea."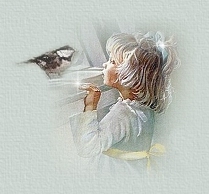 We live in a busy world where there is want for pleasure and acceptance of man. A 'a quick fix'; staying busy in 'activities in the church house and out'; not sitting alone in reading and thinking on God's Word and maintaining a daily prayer life. 'Things' that 'take the place of the weightier matter of relationship with Jesus' ~ dulling the senses. Result? More worldly than Spiritual; focused on everything and everyone with no desire to sit with our Heavenly Father. Thus, no power. No 'anointing'. Unprepared for whatever. Possess no discernment between good and evil to liberate another. Bound to their flesh appetites. This 'temporary' life; earthly.
These, to name a few, keep one from coming in-touch with what is truly happening, making decisions accordingly. Too, inability to do what would effect change inside and out. Sometimes, a quick fix brings temporary comfort. Still, at such times, one feels a deep inner void while seeking something to fill or fulfill it. Howbeit, remaining uncomfortable in their own skin. And, if anyone feels that way ~ not happy with God from within, they won't be happy with anyone else or their circumstances either.
Some, seek man's counsel, much of the time expecting to hear and willing to do only what suits the moment and their desire. Yet, have already decided what they will and won't do. And, that is the quest. What a person really wants. For, people do what they 'want', and when the will changes, then the 'want' does also. A person's life will show where their heart is and how much.
Whether people want to consider God in their thoughts; live including or excluding Him in their soul, family and lifestyle, all will see Jesus eye-to-eye one day and receive His Judgment to enjoy or endure for Eternity. Whether one says....they believe in Him, or not. The proof is in the pudding, as mama used to say. And Jesus said, 'By their fruits you shall know them.' Another text says that God weighs the actions of man. Why? Because it all centers around our Spiritual heart condition in the sight of God. His Word is true! And, these are things that all people shall have to deal with. i.e.

Romans 14: 7 ~ 13
For none of us liveth to himself, and no man dieth to himself. For whether we live, we live unto The Lord; and whether we die, we die unto The Lord: whether we live therefore, or die, we are The Lord's. For to this end Christ both died, and rose, and revived, that He might be Lord both of the dead and living. But why dost thou judge thy brother? or why dost thou set at nought thy brother? for we shall all stand before The Judgment Seat of Christ.
For it is written, As I live, saith The Lord, every knee shall bow to Me, and every tongue shall confess to God. So then every one of us shall give account of himself to God. Let us not therefore judge one another any more: but judge this rather, that no man put a stumblingblock or an occasion to fall in his brother's way.
Isaiah 45: 22 ~ 24 Look unto Me, and be ye saved, all the ends of the earth: for I AM God, and there is none else. I have sworn by Myself, The Word is gone out of My mouth in Righteousness, and shall not return, that unto Me every knee shall bow, every tongue shall swear. Surely, shall one say, In The Lord have I Righteousness and Strength: even to him shall men come; and all that are incensed against him shall be ashamed.
Revelation 1: 7 Behold, He cometh with clouds; and every eye shall see Him, and they also which pierced Him: and all kindreds of the earth shall wail because of Him. Even so, Amen. I AM Alpha and Omega, The Beginning and The Ending, saith The Lord, which is, and which was, and which is to come, The Almighty.

Dear hearts, God knows best what is good, proper and right. We are most wise to embrace Him as our 1st love, above all else. So doing, take to heart how He feels and what He has given us in Wise sound Spiritual Counsel to live out our lives by. This road-map leads to Heaven with Him Eternally. His Wisdom is far beyond that of man. After all, He is The One Who Created this entire Universe and all therein. He is The One Who made it possible for a child to be conceived and to grow inside its mother's womb until such time it is entire, and can live and thrive on its own outside the womb. The miracle of finger nails, eye lashes, and vital organs shows us each and every day that GOD is greater than man and surely is a Mighty force to be reckoned with in our hearts and lives. Wisdom. God is The Potter, and we are His clay.
Isaiah 64: 8 But now, O Lord, Thou art our Father; we are the clay, and Thou our Potter; and we all are the work of Thy Hand.
Romans 9: 20 ~ 24 Nay but, O man, who art thou that repliest against God? Shall the thing formed say to Him that formed it, Why hast Thou made me thus? Hath not The Potter power over the clay, of the same lump to make one vessel unto Honour, and another unto dishonour? What if God, willing to shew His Wrath, and to make His Power known, endured with much longsuffering the vessels of wrath fitted to destruction: And that He might make known the riches of His Glory on the Vessels of Mercy, which He had afore prepared unto Glory, Even us, whom He hath Called, not of the Jews only, but also of the Gentiles?
Isaiah 29: 13 ~ 16 Wherefore The Lord said, Forasmuch as this people draw near Me with their mouth, and with their lips do Honour Me, but have removed their heart far from Me, and their fear toward Me is taught by the precept of men. Therefore, behold, I will proceed to do a Marvellous work among this people, even a Marvellous work and a wonder: for the wisdom of their wise men shall perish, and the understanding of their prudent men shall be hid.
Woe unto them that seek deep to hide their counsel from The Lord, and their works are in the dark, and they say, Who seeth us? and who knoweth us? Surely your turning of things upside down shall be esteemed as the potter's clay: for shall the work say of Him that made it, He made me not? or shall the thing framed say of Him that framed it, He had no understanding?

We are living in the days prior to Christ's return for His Bride, His Church. We are also living in the days where things are waxing worse and worse, Spiritually and morally speaking. These are vital times. Any moment, Christ can split the Sky to call up with Him His own. BE ready, we must.
This is no time to 'let' the 'cares of this world choke out the riches of Christ', nor our precious daily time at His feet showing Him our love in word, lifestyle and our time.
This is no time to complain and murmur. You know.....the children of Israel in the wilderness got slain dead for that, and didn't get to enter The Promised Land. An admonition to us. God said, 'I change not.'
This is no time to join with others in being a liar, a hypocrite, (pretender, fake) go along with the crowd on anything, including the 'blame' game, refusing to take responsibility for our self. Father knows ~ He's listening and watching each one of us.
This is no time to be seeing 'tunnel vision' which is the mark of a selfish and proud people. Sadly, not seeing the whole picture of things. Whew!
This is no time to take God and His Word lightly; to walk in utter unbelief in disobedience.

Before we know it, much time has gone by in our life here on earth. What have we done with the precious gift of life that God Himself has given to us? Is He pleased with what He sees? What He hears? What does He feel and react like to us? Is He proud to call us His children? Or, are there things we need to change about our self and our living? He is The Potter over this clay. Sweet Jesus, may we each be and live in such a way that we please Your heart, I pray.
He has a destiny for our character and life. He has a plan that He wants to achieve with each one of us. He wants to fashion us as His clay anew. This is our joy as well as His. Thus, we are ready to be vessels He can flow through, do His work through, to lost and suffering humanity and in strengthening the saints.
Look UP to Him. He's hearing you. He's watching you. While He was on the cross, He had YOU on His mind and heart.
Isaiah 49: 13 ~ 16
Sing, O Heavens; and be joyful, O earth; and break forth into singing, O mountains: for The Lord hath Comforted His people, and will have Mercy upon His afflicted. But Zion said, The Lord hath forsaken me, and my Lord hath forgotten me. Can a woman forget her sucking child, that she should not have compassion on the son of her womb? yea, they may forget, yet will I not forget thee. Behold, I have Graven thee upon the palms of My Hands; thy walls are continually before Me.




Script Used For Butterfly Floats is Courtesy of
Altan
Thank You, Tin. This Child and Set is Precious!
The Inspirational Music Playing Today is Entitled, Butterfly Kisses