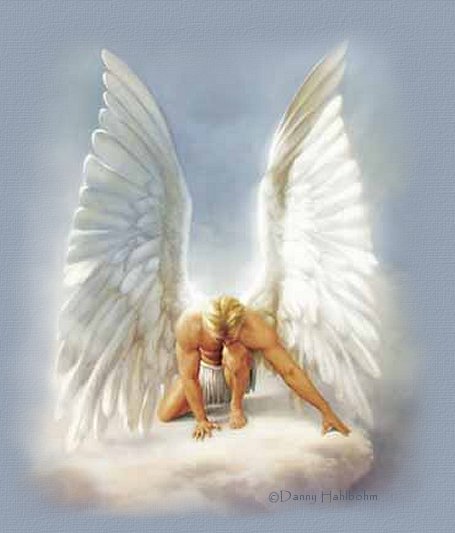 What About Angels? - Part 1

There are many texts regarding angels in the Bible, and although I'm using just some of them in this sermon, there will be 2 parts (2 pages) to this message. As you know, the Word of God is our final authority on each issue. It is Spirit and Divine Truth that gives us knowledge about God, His will, His personality and viewpoint. We need to get into the Bible to get His mind on things for when all is said and done, all that will matter to us when we see Him, is what He thinks of us.
I suggest using a Strong's Exhaustive Bible Concordance when you study your Bible, to research any issue. Foremost, because it is not indoctrinating to man's views in any way. Rather, it is from the heart of God in the original translation. It's listed in alphabetical order naming all the scriptures to do with any topic you are interested in studying, giving its texts throughout the Bible. You can also see in the back what the Hebrew (O.T.) and Greek (N.T.) is for that word as it is used in that particular scripture.
Personally, I've learned much at the feet of Jesus this very way. This form of in-depth studying for many years, has given me clarity when I was confused and not clear on what Truth was about something. It is liberating, helping us to see all that God has to say on any subject such as joy, love, herbs, obedience, surrender, children, wisdom, marriage, rain, snow, lying, etc.
As in anything, there are true and false teachings on angels. Back to the Bible regarding this topic as any, we see there are three false teachings on them.
First fallacy: Ever since I can remember, angels have been portrayed in female form, and although many of them are so lovely, it just isn't so. Years ago, I was shocked to see that there are only men angels in the Bible. No women angels whatsoever.
Second fallacy: We cannot summon (call) them forth as some have taught. Rather, the Bible shows them dispatched by God Himself, from His Throne Room and for His particular purpose. They have His 'destiny', and purpose to fulfill, not ours. Also, in this sermon you will see texts (as many do) referring to their gender as 'he, his, lord and him'. The Bible never refers to the angels as 'she or her'. It just isn't so. (This is why you will not see women graphics on this site for angels.)
Third fallacy: We are not to worship Angels. Only One deserves our unending worship and that is God Himself, through His Son, Jesus Christ. Angels are merely God's messengers to man, His ministering spirits, Heavenly beings, sent forth to us for His purposes. What is their mission? They come to announce things, prophecy, chase the enemy, warn people; and, are used in Judgment by God on man. Too, they protect, comfort, and guide. Many texts show them interacting back and forth in conversation with men and women on earth, (as you'll see in this message). It didn't seem to matter where the person was, or, what they were doing at the time, when God sent His angel to them with a message from Him. People were told things that they needed to know. I want you to really think on what you read in the Bible on them. Contrary to some teachings about them, nowhere will you see someone conjuring them up, praying for them to come, or in worship to them. 'Thou shalt have no other gods before Me'.
Psalms 34: 7 The Angel of the Lord encampeth round about them that fear Him, and delivereth them.
There are many things that we shall see in the Bible, that will surprise us. Long ago, I was amazed to see '...is there any taste in the white of an egg?' (in Job)..(and I hope this wets your appetite to search and study it more your self) Also,
Psalms 104: 10 ~ 14 He sendeth the springs into the valleys, which run among the hills. They give drink to every beast of the field: the wild asses quench their thirst. By them shall the fowls of the Heaven have their habitation, which sing among the branches. He watereth the hills from His chambers: the earth is satisfied with the fruit of His works. He causeth the grass to grow for the cattle, and herbs for the service of man: that He may bring forth food out of the earth;.. (Notice, it doesn't say Mother Nature or Mother earth does this stuff .. as we hear many say today) GOD, The Creator of the entire Universe, does it! He is our Provider and The One Who is in charge of the Heavens, the earth, all that is within them, and all that is beneath the earth. God is GOD Almighty!
Job 39: 13, 14 Did you give the goodly wings unto the peacocks? or wings and feathers unto the ostrich? Which leaves her eggs in the earth, and warms them in dust,..'
Jeremiah 17: 11 As the partridge sitteth on eggs, and hatcheth them not; so he that getteth riches, and not by right, shall leave them in the midst of his days, and at his end shall be a fool.
What we believe and teach must go with the Holy Bible, lifting up God's standard as His lights shining into the hearts of men. We are not left to fate or human error.
An Angel came directly to Hagar, Sarah's (Sarai) maid, and spoke back and forth with her. He came to restore, comfort, and to prophesy. Not only did he call her to return and submit herself to Sarah, but told the gender and name of the child Hagar would bear to Abraham. God Himself named him Ishmael, while still in her womb. Awesome!
Genesis 16: 11, 12 And the Angel of the Lord said unto her, Behold, thou art with child and shalt bear a son, and shalt call his name Ishmael; because the Lord hath heard thy affliction. And he will be a wild man; his hand will be against every man, and every man's hand against him; and he shall dwell in the presence of all his brethren. (see 7 ~ 15 vs.)
2 Angels were commissioned to Lot in Sodom and Gomorrah, to deliver he and his family out of there before God's Judgment destroyed the City because of their homosexuality. The Angels' gender referred to as 'he', 'the men' and 'lords', in this particular text.
Genesis 19: 1 ~ 5 And there came two angels to Sodom at even; and Lot sat in the gate of Sodom: and Lot seeing them rose up to meet them; and he bowed himself with his face toward the ground; And he said, Behold now, my lords, turn in, I pray you, into your servant's house, and tarry all night, and wash your feet, and ye shall rise up early, and go on your ways. And they said, Nay; but we will abide in the street all night. And he pressed upon them greatly; and they turned in unto him and entered into his house; and he made them a feast, and did bake unleavened bread, and they did eat. But before they lay down, the men of the city, even the men of Sodom, compassed the house round, both old and young, all the people from every quarter: And they called unto Lot, and said unto him, Where are the men which came in to thee this night? bring them out unto us, that we may know them.
To Jacob in a dream, making him aware of and prophesying to all generations God's Divine purpose for him and his family, plus. Gen. 28: 12... Also, Angels accompanied he, his family, his flocks safely into their new country and dwellings in Genesis 32: 1, 2 And Jacob went on his way, and the angels of God met him. And when Jacob saw them, he said, This is God's host:..
An Angel appeared unto Moses the first time in Mt. Horeb, with God's commission and mandate to him, to deliver His chosen people out of bondage:
Exodus 3: 2 ~ 7 And the Angel of the Lord appeared unto him in a flame of fire out of the midst of a bush: and he looked, and, behold, the bush burned with fire, and the bush was not consumed. And Moses said, I will now turn aside, and see this great sight, why the bush is not burnt. And when the Lord saw that he turned aside to see, God called unto him out of the midst of the bush, and said, Moses, Moses. And he said, Here am I. And he said, Draw not nigh hither: put off thy shoes from off thy feet, for the place whereon thou standest is holy ground. Moreover he said, I AM The God of thy father, The God of Abraham, The God of Isaac, and The God of Jacob. And Moses hid his face; for he was afraid to look upon God. And the Lord said, I have surely seen the affliction of My people which are in Egypt, and have heard their cry by reason of their taskmasters; for I know their sorrows;... (see)
An Angel of the Lord guided and protected Moses and the children of Israel as they journeyed through the wilderness. How? With a pillar of cloud by day and a pillar of fire by night. When it stopped they stopped; when it moved, they moved. God protected them by day and night, setting boundaries in their wilderness journey. Exodus 14: 19 Also:
Exodus 23: 20 ~ 23 (gender seen clearly again) Behold, I send an Angel before you, to keep you in the way, and to bring you into the place which I have prepared. Beware of him, and obey his voice, provoke him not; for he will not pardon your transgressions: for My Name is in him. But if you shalt indeed obey his voice, and do all that I speak; then I will be an enemy to your enemies, and an adversary unto your adversaries. For My Angel shall go before you,..
Aaron, the brother of Moses and a prophet of God, sinned against God and the people by melting their gold, building a calf for them to worship. There Moses was up in the Mount in the Awesome Presence of Almighty God for days, getting the 10 Commandments. God told him to go down because of their sin. For him, after being in the Great Presence of God, it must have felt like going from Heaven to Hell. He was so impacted at what he saw them doing and seeing it through GOD's heart, that he threw down and broke the tables of stone that the Commandments were written upon by God Himself. God sent an Angel to bring Judgment upon them for it:
Exodus 32: 33 ~ 35 And the Lord said unto Moses, Whosoever hath sinned against Me, him will I blot out of My Book. Therefore now go, lead the people unto the place of which I have spoken unto thee: behold, Mine Angel shall go before thee: nevertheless in the day when I visit I will visit their sin upon them. And the Lord plagued the people,....
God sent an Angel to rebuke, turn, block the path of, to judge disobedient Balaam in Numbers 22: 21 ~ 27 The ass saw the Angel in the road while Balaam did not, and beat the ass for stopping and sitting down, not knowing that the ass he was riding upon was sparing him death:
Numbers 22: 23 ~ 25 And the ass saw the Angel of the Lord standing in the way, and his sword drawn (type of Judgment coming) in his hand: and the ass turned aside out of the way, and went into the field: and Balaam smote the ass, to turn her into the way. But the Angel of the Lord stood in a path of the vineyards, a wall being on this side, and a wall on that side. And when the ass saw the Angel of the Lord, she threw herself unto the wall, and crushed Balaam's foot against the wall: and he smote her again.
Angels are used by God to convey a message to the people, to implement God's purpose, and to prophesy: Judges 2:1 and,
Judges 6: 21 ~ 23 Then the Angel of the Lord put forth the end of the staff that was in his hand, and touched the flesh and the unleavened cakes; and there rose up fire out of the rock, and consumed the flesh and the unleavened cakes. Then the Angel of the Lord departed out of his sight. And when Gideon perceived that he was an Angel of the Lord, Gideon said, Alas, O Lord God! for because I have seen an Angel of the Lord face to face. (many of them appear as a man, with flesh tones as an ordinary person) And the Lord said unto him, Peace be unto you; fear not: you shalt not die.
An Angel was sent to a barren wife with good news of childbirth, the gender, along with directions for his life. (Samson)
Judges 13: 2, 3 and 6 ~22
Manoah's wife was barren. And the Angel of the Lord appeared unto the woman as she was in the field one day, saying unto her, (wow) Behold (look) now, you are barren, and bear not: but you shall conceive, and bear a son. Then the woman came and told her husband, saying, A man of God came unto me, and his countenance was like the countenance of an Angel of God, very terrible: but I asked him not whence he was, neither told he me his name: But he said unto me, You shall conceive, and bear a son; and now drink no wine nor strong drink, neither eat any unclean thing: for the child shall be a Nazarite to God from the womb to the day of his death. Then Manoah (prayed) intreated the Lord, and said, O my Lord, let the man of God which You did send come again to us, and teach us what we shall do to the child that shall be born. And God hearkened to the voice of Manoah; and the Angel of God came again unto the woman as she sat in the field: but Manoah her husband was not with her. (the 2nd time to the woman as she was alone in the field)
And the woman made haste, and ran, and told her husband, and said unto him, .. the man hath appeared unto me, that came unto me the other day.
Manoah arose, and went after his wife, and came to the man, and said unto him, Are You the man that spake to the woman? And he said, I am. Manoah said, Now let your words come to pass. How shall we order the child, and how shall we do unto him? And the Angel of the Lord said unto Manoah, Of all that I said unto the woman let her beware (obey). But the Angel of the Lord did no more appear to Manoah and to his wife. Then Manoah knew that he was an Angel of the Lord. And Manoah said unto his wife, We shall surely die, because we have seen God.

Absolutely Gorgeous And I Thank Each One Of You So Very Much!
The Pretty Music Playing Today is Entitled, Angels of God